In all areas of cybersecurity, from HIPAA compliance to payment processing, humans are often seen as the weakest links in the system. However, through education and training, you can equip your health care team to be strong, instrumental links in your HIPAA security.
With a simple Internet search on the "weakest link in security," it's apparent that most organizations and thought leaders on security practices believe that humans are that weakest link. Along with those claims, many of the articles brought up by the keyword search suggest that organizations use security tests, like social engineering tests, to determine how they're organization's employees are handling security. This is very important for health care companies because HIPAA compliance requires strict security and intensive training for employees.
Social engineering methods are useful for testing the effectiveness of your training program. Oftentimes, health care organizations will use an outside company to set up a social engineering campaign for testing employee compliance with HIPAA security standards. One test involves sending out an email to employees that looks like it comes from someone inside the organization.
The email contains a tracking link for the company to monitor how many users click the link. The link represents either malicious software that is downloaded to your network when clicked, or a link to a website that asks for the email recipient to submit credentials. This simulation helps organizations to see how many of their employees are in need of more HIPAA and cybersecurity training.
Before implementing these tests, it's important to have a training program in place. Once your program is in place and active, you can conduct some of your own internal social engineering tests.
Below is a table of some security practices that you can train and test in your organization: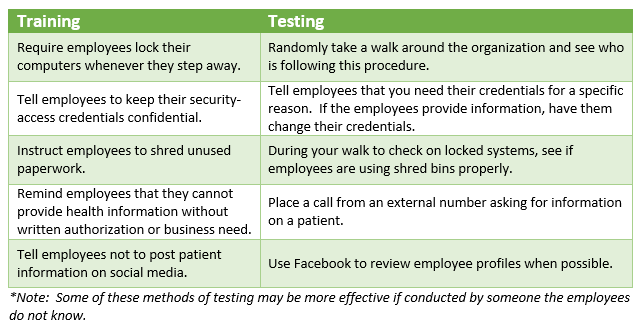 With these training and testing methods, you can find the security practices that need improvement and the employees who need more training, which are both important steps in HIPAA compliance. Remember, if you discover a breach while testing, it will still have to be handled. If you're unsure of what a HIPAA breach is, click here.
For more information on training you can provide to your employees, check out the HIPAAgps training services.